After so many years, and so many disappointing "Zombie Games", we are finally blessed with another title from Turtle Rock Studios, the original developer behind the timeless classic Left 4 Dead. Does this successor live up to the very high standards set by the original game? let's find out in this Back 4 Blood Review.
Back 4 Blood is a welcome refreshment of an already familiar setting
Back 4 Blood delivers a refreshed version of the fan favorite Left 4 Dead. However, the game fails miserably to live up to the expectations set by its predecessors. For starters, the game difficulty settings are laughable. On higher difficulties, zombies, or Ridden, can spawn randomly, even right behind you in an area you just cleared. It happens so often you can test it yourself. Start a campaign mission on a high difficulty setting, go to any roam, clear it, then do any action that can call in a horde, move back to the room you cleared and you will find it swarming with the ridden. And mostly are even special types of ridden. This is a disastrous AI spawning system.
At the beginning of every mission, you get gold, and you collect gold throughout your run. You can spend that gold at safe rooms to buy weapons, ammo, health packs, utility items, and grenades.
But when you die, yeah, you continue with whatever you have left. And when you run out of continues, it is game over for everything you collected.
The game revolves around the "Cleaners". AKA, the brave women and men who work directly with the established government to clear out the undead and gain back the land for humanity to survive. Now, can anyone tell me why the fuck do I have to buy weapons from the government in order to save the country? stupid, right?
Weapons
Weapons in this game feel punchy, with a very well crafted recoil and gun play. The weapon upgrades are mostly useless, since you will probably find a better weapon during your run. And you lose every upgrade if you die in the campaign.
Some weapons feel way overpowered, and others, mostly submachine guns, feel pretty useless. Emptying a magazine to kill 2 or 3 zombies is nothing when you fight nearly a hundred each round.
Game Modes
Game modes are mainly the standard Co-op story mood. And the PVP mode against other human players. PVP is basically the versus from Left 4 Dead. While the story campaign is just a sequential run in the different maps of the game. Being saving an NPC, securing a location, Delivering a package, or just killing a big bad zombie.
This game forces you to play online because the solo mode does not save your progress, you can say that the solo mode is just a test run of the game with no value or rewards. In addition, they made sure that your allied bots are extra stupid to ensure that you will not progress alone. The bots can be seen rolling in circles, standing and aiming at you, or waiting for you to finish your ammo so they can drop you some more.
Difficulty modes do not carry over the progression. It is understandable that playing on survivor difficulty will not let you access mid-game level in veteran or nightmare modes. But why does it also apply the other way around? some players reached Act 4 in Nightmare mode, but due to the stupid difficulty systems, they can't switch to Veteran or Survivor and continue their run, they have to start all over.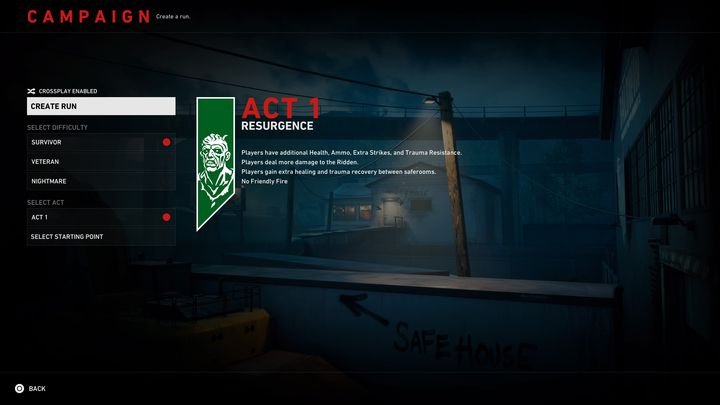 Gameplay
The entire game is a scripted adventure with the following steps:
Start a slow paced run and gun
go through an action that calls in the horde "even lowering a wooden bridge"
kill the horde
reach the end of the level
defend something will you get bombarded by zombie waves
The devs clearly ran out of ideas here. You do the same exact things each run that it is very predictable.
The zombies, or "ridden", are classified into two types, the normal and the special.
Normal zombies are, well, normal. Just like left 4 dead, they do not bite you, they just slap and kick you to death.
Special ridden, or zombies, on the other hand, are extremely strategic. Keeping their distance, launching their attacks, fall back to "reload", and they fit through anything, really.
Back 4 Blood special ridden are basically the following:
Boss Special Ridden
Boss Special Ridden are distinguished by their extremely high health, which appears on the HUD, and high capacity for damage.
Breakers
Breakers are boss-type Special Ridden that possess incredible strength and deceptive agility.
Ogres
Ogres are boss-type Special Ridden of giant proportions and devastating strength.
Hags
Hags are boss-type Special Ridden that will devour any Cleaner that provokes them.
Passive Special Ridden
Passive Special Ridden are enemies that can be fought optionally and can be avoided entirely if careful.
Snitchers
Snitchers are passive Special Ridden that, when attacked, will unleash a horde of Ridden with their ear-splitting scream.
Sleepers
Sleepers are passive Special Ridden that are wall-mounted who will abruptly attack any Cleaner within range.
Tallboys
Tallboys are large-statured Special Ridden with an oversized, club-like arm. As their name suggests, they stand taller than other non-boss Special Ridden and are easily identifiable in a horde due to their height.
Bruisers
Bruisers are belligerent Special Ridden that can unleash a devastating combination of attacks.
Crushers
Crushers are aggressive Special Ridden that can capture isolated Cleaners in their arm and squeeze them to death.
Stingers
Stingers are nimble Special Ridden that can spit acidic projectiles to encumber Cleaners. They are far more agile and mobile than other Special Ridden and are capable of leaping onto and climbing walls to reach their target.
Stalkers
Stalkers are nimble Special Ridden will grab hold of Cleaners and drag them away from their team. They lack the conventional projectile attack that other members of the family possess.
Hockers
Hockers spit a particularly adhesive projectile that will immobilise any Cleaner that it hits.
Reekers
Reekers are heavily-bloated Special Ridden that can cover Cleaners in their entrails upon their death, summoning a horde of Ridden to attack. They have a heavier build than other Special Ridden, which also reflects on their inferior mobility.
Exploders
Exploders are unpredictable Special Ridden that can detonate themselves at any time.
Retches
Retches are nauseating Special Ridden that can spit acidic bile to create deadly hazards. Their bile will leave a temporary pool of acid in its wake that will deal continuous damage to Cleaners standing in it.
You may find one of the Retches, which are basically a huge hulk-sized infected who can spit acid from long distances, jumping through vents and tight windows, it looks so stupid but it is funny how the devs managed to mess up the collision boxes on those enemies.
And during horde attacks, those zombies spawn everywhere, literally behind you in a sealed room for no apparent reason other than the AI of the game being incredibly stupid. It may even go as far as spawning 5 or 6 Hockers and aim each one at a different player, immobilizing all players instantly and ending the game.
Back 4 Blood characters are among the most generic characters you will ever see
Just like the bland story of saving a street after another, the characters are not any different. We have the battle hardened Mom, who is an old lady killing zombies and saving the world, Walker, the generic tough black dude who is the leader/muscle of the group, Holly, the typical high school girl with the cheesiest one liners you can ever hear, and the outlandish/urban Evangelo. the teenager who is still a "fresh face" in the cleaners world.
You unlock more characters as you progress through the campaign, all or equally – or even less – uninteresting.
Yeah, I will not bother, waste your time and read more about them here
Each character has its own starting weapons, which really does not matter since you will buy whatever weapon you want anyway. In addition to a bonus that is given to the entire team for playing that character. Some bonuses include an additional equipment slot for the team, bonus movement speed after melee kills, etc.
The Back 4 Blood Card system is a glorified random level generator that fails to deliver
The devs noticed that getting rekt because of the game's unfair mechanics and replaying the same mission over and over again can get boring pretty quickly. There is no challenge, just an RNG system of which zombie will spawn when, and that is 90% of the reasons why you can win or lose in a given mission.
To counter the repetitive nature, the devs created the card systems. You start each mission with cards that work against you, adding fog to the map, increasing horde callers, and so on. Then, you get to pick which cards you want to play with. You can pick cards to increase your reload speed, Health Points, healing effectiveness, number of collected coins, and so on. You unlock an extra card slot mission after mission. And you unlock the cards and progress them through the supply lines section in the game.
After a while, you get used to the cards and you will play with a fixed card deck no matter what, because they don't really make that much of a difference anyway.
Final thoughts
Thinking positively about Back 4 Blood can a very hard thing to do, especially when we compare it to the classic masterpiece Left 4 Dead series. However, on its own the game has some very cool and enjoyable moments. And it is certainly a much needed coop experience to enjoy with friends, specially when every other game out there is just another battle royale.
If you don't want to feel scammed, wait for a sale or play this game on the Xbox Game Pass. It is pretty enjoyable when you don't pay the full price.
Final Verdict
Back 4 Blood may not be a worthy successor of our beloved Left 4 Dead. But it is the closest enjoyment we can have of this type. And it certainly beats the walk in the park "World War Z"
Good
Gameplay
Visuals and Performance
Zombie Variety