Deep down I knew it wasn't over, and Mortal Kombat 11: Aftermath is here to prove me right.
After one year of the release of Mortal Kombat 11, Netherrealm brings us a continuation to one of the best MK stories ever. Apparently, after Liu Kang defeated Kronika he can't restore time. Because he needs her power crown that was destroyed in the fight.
Luckily though, Shang Tsung knows how to bring it back, actually bring Kronika and her crown back. Is that actually a good idea? should Earth Realm protectors trust Shang Tsung? watch the trailer:
Looks like too many stuff going on here, let's break it down.
What is new in Mortal Kombat 11: Aftermath Expansion?
From the trailer, we can tell that two classic characters – Sorry, Karakters – will make their return. Fujin and Sheeva. In addition to a brand new character: Robocop.
Looks like we are going full machines on this roster. We only need Sektor, Cyrax, and Cyber Sub-Zero.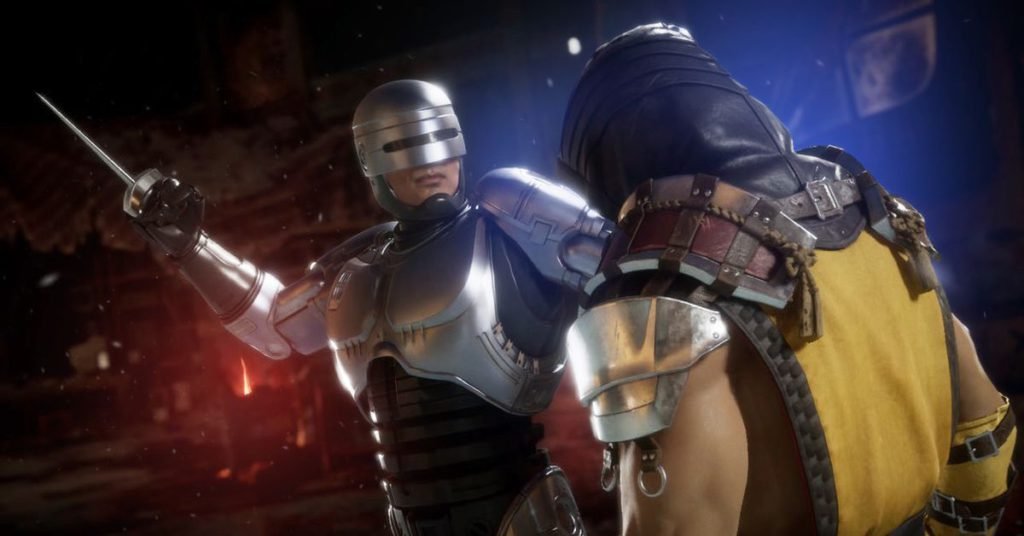 The new expansion also features new skins for almost all fighters, New fighting arenas, and obviously, character intros.
The update will also bring back our favorite match ending, Stage Fatalities. Which I was hoping will be incorporated in all stages, but sadly they are not. Still, it will be fun to discover them on our own.
In addition to all of these features, a classic fun fatality makes a comeback. The Friendship is here to make Scorpion look like a 9 years old kid. I can't wait to see the rest of Friendships on all characters.
And who knows, maybe Babalities are waiting somewhere down the line.
What is the release date of Mortal Kombat 11: Aftermath expansion?
Mortal Kombat 11: Aftermath will be available on all platforms on May 26, 2020. Mortal Kombat 11 released in April 2019 and Netherrealm kept updating the game with new skins and characters. The last update featured Spawn and was released in March 2020. Now we are getting a new full expansion this month. The 3 new characters will be available in May 26. But the characters' skin packs will be released gradually over time. Just like the Kombat pack characters. Exact dates are not yet announced by Netherrealm.
What is the Price of Mortal Kombat 11 Aftermath expansion?
$39.99 USD
Apparently, the new skins, Friendships, and Stage Fatalities will be completely free for Mortal Kombat 11 owners. You still have to buy the expansion to get access to the new story and characters though.
Owners of the premium edition can buy the Aftermath expansion for $40, bringing their total game cost to $140
Owners of the standard edition can buy the Kombat pack + Aftermath for $50, bringing the total game cost to $110.
Newcomers, however, can get the Full game + Kombat pack + Aftermath expansion for only $60 !!
These prices are absurd for dedicated fans of the game who have been there since day one. Stupid move Netherrealm.
If you don't have the game yet, you can buy it now before the expansion release on PS4 to get the dynamic Liu Kang and Raiden PS4 theme.
According to the Playstation Blog: " Mortal Kombat 11: Aftermath will be available digitally first on May 26. And if you preorder on PS4, you'll get a free Mortal Kombat 11: Aftermath dynamic theme featuring Raiden and Liu Kang that was actually custom made by the NetherRealm team and features music from the game. As a studio, we can't wait for players to get their hands on this massive expansion, and we're incredibly proud of the finished content. Hopefully, if we've done our job right, we'll have left our fans still wanting more. "